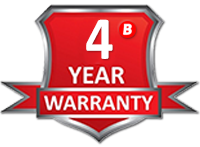 BRAILLO Warranty Details
The Most Comprehensive Warranty In The Industry
Congratulations on purchasing an industry-leading production embosser from Braillo Norway!
These embossers are built to not only produce the highest quality braille, but to last decades with proper maintenance.  While we take every effort to ensure your embosser operates trouble free, things can happen and we want to ensure that your problem is quickly addressed when they do.
Braillo offers the industry's most comprehensive embosser warranty and here are the details:
If your embosser has a problem, please contact your local distributor from whom you purchased the embosser, or contact us directly at: service@braillo.com / +47 74840440.  Our helpful staff will work diligently to promptly resolve your problem.
Braillo covers all parts and shipping costs (potential customs/duties fees are not included) for all proven defective mechanical and electrical parts that fail over the first 3 years, or up to 8,000 hours (15,600,000 braille pages) of ownership.
We offer an additional year (bringing warranty to 4 years) when using Braillo and/or American Thermoform braille paper with your embosser.  This paper must be used exclusively during in order to get this additional 1 year of warranty.  Braille paper can vary greatly in thickness and quality.  Low quality paper cannot withstand the stresses of braille production and therefore is susceptible to paper tears and dust that can damage the embosser.  Our specially formulated, dense, tightly woven paper is purposely engineered to minimize any excess wear on your embosser.  If this 4 year option is chosen, all proven defective mechanical and electrical parts are covered under this warranty for 4 years, or up to 10,700 hours (20,800,000 braille pages).
While we, or your distributor, will work with you via phone, email, video chat, Skype to resolve the problem, you may be responsible for repair costs if your distributor, or a Braillo technician, needs to be dispatched to your location.
Proof of purchase in the form of an invoice or bill of sale must be presented to obtain warranty service, as well as providing Braillo with the embosser serial number, page count, embosser log and firmware version.
Braillo Limited Warranty
What is covered:
Braillo warrants to the original customer with this limited warranty statement: that the embosser conforms to the manufacturer's specifications and will be free from defects in workmanship and materials for a period of 36 months, or up to 8,000 (15,600,000 braille pages); or 48 months, up to 10,700 hours (20,800,000 braille pages) if using Braillo/American Thermoform braille paper.  This warranty is effective from the date of original purchase for all embossers sold worldwide.  Braillo warrants that the embosser is manufactured from new components and that all have been tested thoroughly before they leave the Braillo factory.  Should your local distributor not have replacement parts in stock and they must be sent from Braillo, these parts will be sent via DHL, or other express provider, promptly once the claim is received.
How Braillo will resolve the problem:
Should your embosser have a failure during the warranty period, please contact your local distributor, or Braillo by using the contact information listed above for warranty instructions, and return authorization.  Please do not send defective parts or products back to Braillo before speaking with your distributor, or Braillo first.
What This Warranty Does Not Cover:
This warranty covers normal use as detailed in the user's manual. This warranty does not cover third-party parts, components, or peripheral devices added to the Braillo embosser after it has shipped from Braillo.  Braillo is not responsible for warranty service if the Braillo rating label and/or serial number have been removed, if the embosser has not been properly maintained, or if the embosser fails to function properly as a result of misuse such as use exceeding recommended specifications, using non-Braillo parts/third party-parts, abuse, improper installation, neglect, improper shipping, damage caused by disasters such as fire, flood, and lightning, improper electrical current, software problems, interaction with non-Braillo approved/authorized products. If determined that other than Braillo/American Thermoform braille paper is used, the 4th year of warranty will be null and void, however all terms of the standard 3 year warranty are in full effect.  If service performed by other than an authorized, factory trained technician or not under the guidance of Braillo technicians via phone, email, video chat, the warranty is not valid.  All Braillo parts and service interval timeframes are listed in the user's manual.
Disclosures:
The warranty and remedy listed above are exclusive and in lieu of all other express or implied warranties including, but not limited to, the implied warranties of merchantability or fitness for a particular purpose.  Some laws do not allow the exclusion of implied warranties.  If these laws apply, then all express and implied warranties are limited to the warranty period explained above, unless stated herein, any statements or representations made by any other person or firm are void, except as provided in this written warranty, neither Braillo Norway, or any of its affiliates, shall be liable for any loss, inconvenience, or damage resulting from the use, or inability to use, the Braillo embosser, whether resulting from breach of warranty of any other legal theory.
Some jurisdictions do not allow limitations on how long an implied warranty lasts and some jurisdictions do not allow the exclusion or limitation of incidental or consequential damages, so the above limitations and exclusions may not apply to you.
This warranty gives you specific legal rights, and you may have other rights which vary from jurisdiction to jurisdiction.