What is True Production Braille
What Makes a Braille Printer a True Production Braille Printer?
Printing a few sheets of braille at a time can be handled by any embosser, however, printing hundreds and thousands of interpoint braille pages, 24/7 and at high speed while maintaining the highest braille quality, is production level braille printing.

Braillo offers the ONLY line of true production braille embossers in the world and here is why:

Built with Precision Made, Durable and High Quality Components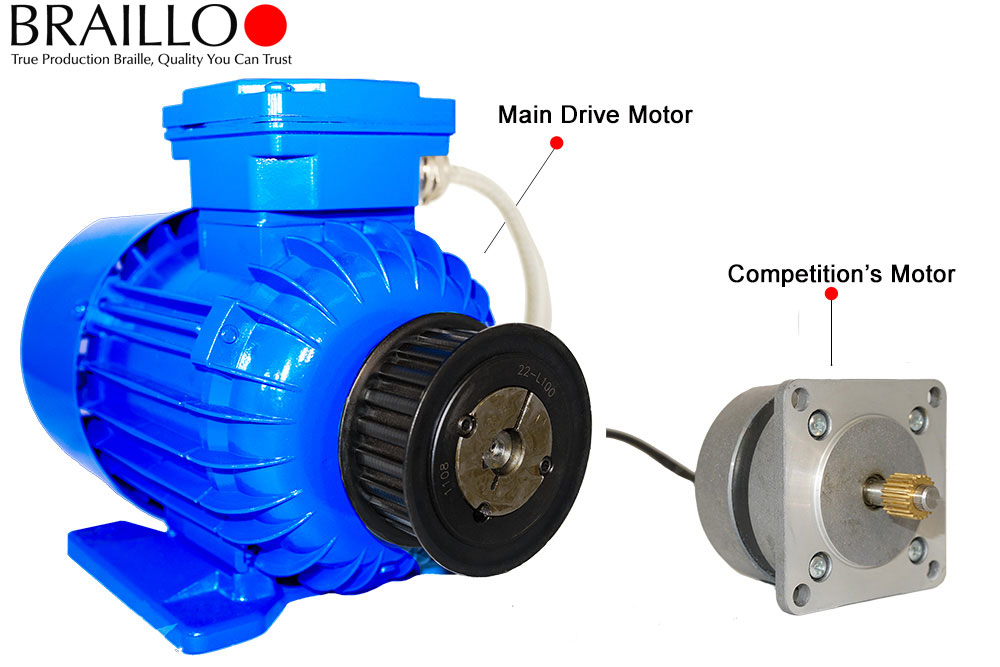 Braillo has been engineering true production embossers for nearly 40 years.  We have learned that precision made parts constructed with high quality materials is essential for high volume, high accuracy braille printing.  It's important to actually SEE the difference between a Braillo embosser and personal embosser (or personal embossers attempting to be a production embosser).  After you view these images,  you will fully understand there is NO comparison to Braillo's true production braille embossers.  
Our Unique Locked in Place Pin Embossing System
Precision made, strong and durable parts are important, but it means nothing if you are not able to run at high speeds while still delivering superior braille dot heights and perfectly formatted braille cells.
All parts are important, but when it comes to large scale, high speed, perfectly formatted braille embossing the actual embossing system is what stars in the show. (see full report on braille quality vs solenoids)
Only Braillo has a unique embossing system that we have perfected over the past 40 years. Similar top how digital hard drives have replaced moving discs, Braillo has an embossing system that has virtually no movement other than the embossing motion. To do this we use a single embossing head for EACH column of braille, up to 182 individual braille heads that are fixed in one place. As braille paper moves into the printer, it is locked down, the braille embossing head presses into the paper then retracts, the paper is released, and the process is repeated. By isolating each embossing head and dedicating it to just one job, embossing a perfectly formed braille dot at the exact position it should be in, Braillo's can run at high speeds and for long durations without any lack of performance.
Accept Braille Rolls for Continuous Braille Printing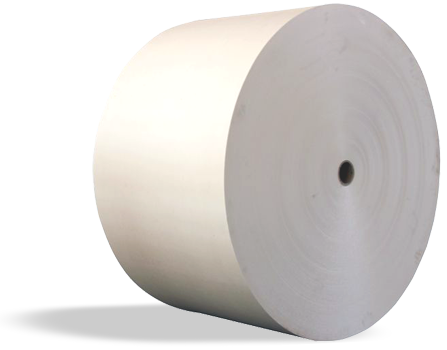 When you have a Braillo you can scale to any size that meets your needs. This can often mean using rolls of Braille paper instead of tractor feed paper.  The Braillo 600 S2 embosser uses tractor feed paper, however it can also be configured to use rolls of braille paper as your organization grows.  Braille paper rolls allows you to leverage Braillo's speed and accuracy by allowing it to run for very long durations without the necessity to change paper. This is why all the major braille print houses use Braillo, they demand 24/7  true production braille capabilities.
Industry Leading Warranty and Support
Every Braillo comes with an up to 4 year industry leading warranty.  Although Braillo's commonly last for decades, we want our customers to be certain that their investment in a Braillo is protected.  And remember, not all warranties are the same, where some companies have many exceptions and exclusions, Braillo does not.  We cover every mechanical component for 3 full years and if you choose to use our quality braille paper, we will increase your warranty by an additional year.
How to evaluate a Braille printer warranty