Braillo Embossers Are The Only To Produce Compliant Braille
Meeting Braille Authority Standards -
You Can't Get There From Here
The standards for printing braille is highly regulated by that country's national braille authority. 
For most countries, braille printed on paper must have a .5mm high braille dot, otherwise the braille is considered sub-standard and not compliant.
The only embossers that meet the .5mm dot height requirement are those manufactured by Braillo – there isn't another company that makes an embosser that produces compliant braille!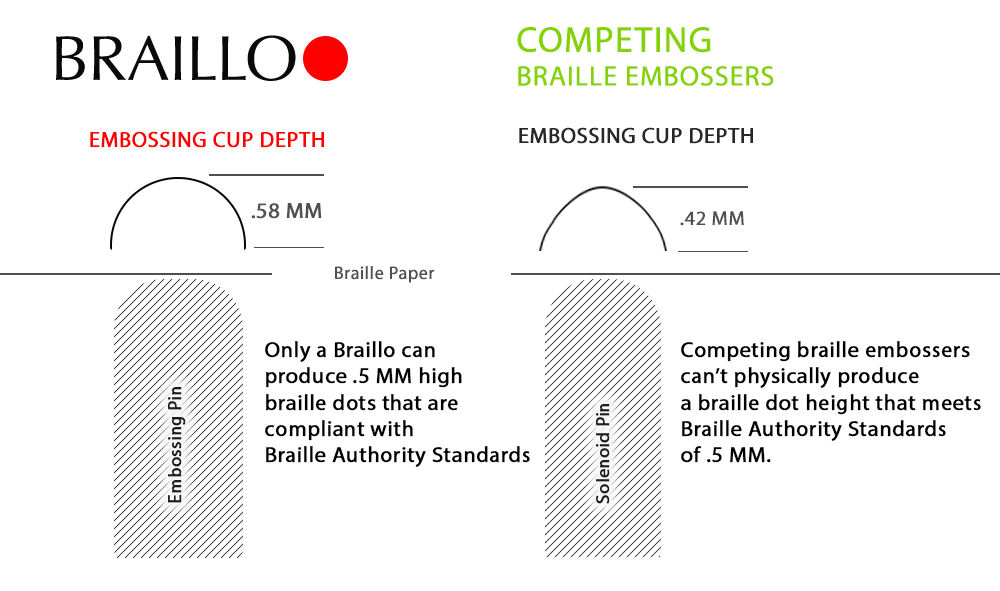 Take A Close Look Above... The Truth Is Right In Front Of You.
All Braillo embossers use a cup which forms a braille dot that is .58mm deep. This depth allows for paper thickness and the embossing pin to strike and create a braille dot at least .5mm in height.
By contrast, the closest competitor's cup is only .42mm deep.  Not only is the cup itself not compliant, but then when you add the thickness of the paper into the equation, their braille dot is under .4mm high.  There simply is no possible way for these braille embossers to create a braille dot that meets a country's braille authority standards.
Understanding Other Braille Dot Height Standards
It is important to understand the different dot height standards for specific braille media. For example, printed signs such as you would find by an elevator have different standards; packaging materials and labels for items like medicine have their own set of standards.
We are strictly presenting information on printed braille documents such as books, magazines or other forms of braille literature.